Why a top wedding photographer

I am a professional, a full time photographer.
I have a little fine studio with an assistant, she helps me for postproduction tasks.
Often I have also an assitant on the field to help me to fell comfortable and free.

BACKUP !!!
I have backup equipment.
I have backup archive.

EQUIPMENT
I use the best equipment to fit my style, I like cameras and lenses but only to boost my espression tools.

I will arrive a little bit early and I will be dressed properly with dark non intrusive clothes.
As experienced wedding photographer I know when to stay back in the shadows and when to get right up to the front.
Don't make the mistake to leave it up to your wedding planner to choose the photographer for you, take a look to:
WEDDING PHOTOGRAPHY GALLERY
I will be timely:
arriving at your wedding promptly
and getting the results to you on time
You will be able to have a wedding gallery on line
You will have a gallery and a laboratory to order your prints on line
You will have all the HIGH resolution file and you can proceede on your own
I have the right equipment for photographing your wedding.
I am used to work with individuals, couples, and groups to make the formal photography go smoothly.
When you think about the cost of wedding photography, remember that the photographer's fee is only part of your investment: You, your parents, your extended family and your friends will be investing time with the photographer during your wedding. Don't waste time on your wedding day with a photographer who won't produce results you love!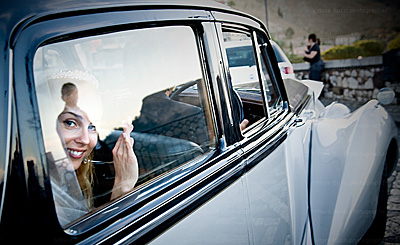 A professional wedding photographer will have all the right modern equipment, and these days that means that he or she should have the most recent digital photography equipment. The modern digital cameras take many months, if not years, to fully understand their capabilities in order to take most shots with the correct exposure and framing. A professional wedding photographer has had experience with many weddings and can guide you through the day ensuring you are having a great time and are feeling at ease. A professional has experience with making the wedding day flow smoothly and on time.
Here if you are looking fro: