Wedding Photographer Equipment
A lot of amateur photographers want to know what kind of equipment I use to shoot weddings.
Well I'm a Nikon guy I'm also a NPS (Nikon Professional) but I always say that a wedding photographer needs 3 very important things:
1. Sharp eye
2. Quick finger
3. Passion and love for his work
This is the best wedding photographer equipment
In 2005 I turn to digital equipment and there is no return.
I believe that if you want to be a serious wedding photographer you have to choose between the two best system: Nikon or Canon because they got nice cameras with superb sensors and a wide variety of lenses and flashes to support your creativity.
There is no way to build a top wedding kit equipment you will need at least 12 to 15 thousand dollars more or less 10 / 12 thousand euros.
CAMERA BODY FOR WEDDING PHOTOGRAPHY
There is no doubt, if you are serious about wedding photography you must buy a full frame body, there is no comparison in terms of:
1. Sharpness
2. Noise
3. Color Differentiation
4. Ultra-Ultrawide Lenses
You will need at least 2 camera bodies, as wedding photographer you must consider to have a back-up option of your equipment, always.
What I own:
1. Nikon D3 is a work horse, fast robust ergonomic and with a sexy design 12 megapixel you can shoot up to 4000 ISO delivering amazing print quality this camera sensor is really the best I have ever own, much better than film
2. Nikon D700 lighter than the Nikon D3 share the same CMOS sensor it is also tropicalized and is not frightened by rain
You must also consider:
1. Canon 5D was the first full frame digital srl is robust and nice works very well at high ISO, 12 megapixel
2. Canon 5D Mark II with 21 megapixel is really amazing
3. Sony Alfa 900 24 megapixel
4. Nikon D3x 24 megapixel
If you want to be among the best you must have equipment that let you deliver the best quality in the market.
Full frame format is a "must".
Here you can find a comparison test between cameras.
LENSES FOR WEDDING PHOTOGRAPHY
A wedding photographer wants fast and sharp lenses, I love to work with available light and to be insde the scene.
Usually you must consider to have 5 type of lenses that will cover all your needs during the wedding day:
1. Wide-Angle Zoom
2. Wide-to-Telephoto Zoom
3. Image-Stabilized Telephoto Zoom
4. Prime Lenses
5. Special Lenses
WIDE ANGLE ZOOM FOR WEDDING PHOTOGRAPHY
What I own:
1. Nikon 14 – 24 mm f/ 2.8 this is simply unbelievable you will shot vibrant wedding picture in the middle of action.
You must also consider:
1. Canon EF 16 - 35mm f/2.8L II USM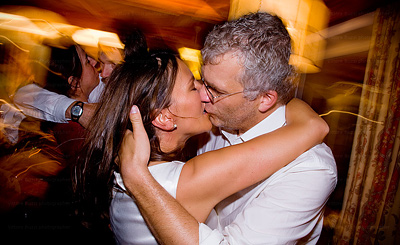 Wedding Photography Equipment
WIDE TO TELEPHOTO ZOOM FOR WEDDING PHOTOGRAPHY
What I own:
1. Nikon 24 – 70 mm f/ 2.8 is my preferred lens, I can shoot an entire wedding with this Nikon lens only. I usually use it on my Nikon D3 for the most of the wedding at 2.8 aperture. At 24 mm is not a great lens but is excellent for his versatility and speed and remember we are talking about wedding not architecture.
You must also consider:
1. Canon EF 24-70mm f/2.8L USM Auto Focus Wide Angle
2. Carl Zeiss Vario-Sonnar T* 24-70 F2.8 ZA for SONY
IMAGE STABILIZED (OR NOT) TELEPHOTO ZOOM FOR WEDDING PHOTOGRAPHY
What I own:
1. Nikon 70 – 200 mm f/ 2.8 is a nice lens, although at 200mm on full frame cameras this lens vignette a lot and sometimes you must correct this fault with Nikon Capture NX or Photoshop. It' is a nice lens sometimes a give it to my assistant to catch nice candid shot from a quiet place.
You must also consider:
1. Canon EF 70 – 200 mm f/ 2.8
2. SAL-70200G for SONY
PRIME LENSES FOR WEDDING PHOTOGRAPHY
What I own:
1. Nikon 85 mm f/ 1.8 great portrait in low light
2. Nikon 50 mm f/1.4 extreme low light useful
3. Nikon 35 mm f/ 2.8
You must also consider:
1. Nikon 85 mm f/ 1.4 2. Nikon 28 mm f/ 1.4
3. Canon 85 mm f/ 1.2
4. Canon 50 mm f/ 1.2
5. Canon 35 mm f/ 1.4
6. SAL-35F14G 35 mm f/ 1.4 for Sony
Prime lenses are really useful in low light situation. I usually have a third body with one of mine prime lenses on it. I do not want to waste time chancing lens I will lose part of the action.
SPECIAL LENSES
One for all www.lensbaby.com
FLASHES
In the last few years the little strobe flashes have reach a great versatility. For a wedding photographer flashes are a great resource of light during really extremely low light situation with a little bit of practice you can use it in a really creative way. You can also place two or more remote flashes out of camera and use it with a remote flash trigger.
What I own:
1. Nikon SB900 nice works fine with full frame a lot of power with low energy consumption.
2. Nikon SB800
3. Nikon SB600
4. Nikon SU800 wireless transmitter
You must also consider:
1. Canon Speedlite 580 EX
2. Canon Speedlite 430 EX
3. Canon ST-E2 speedlite transmitter
TRIPODS
Tripod is really a nice piece of equipment I use it sometimes in the church and every time when there are fireworks.
I use a Gitzo GT0540 is really light.
BAG
You also will need a nice bag to carry all you equipment I prefer Backpacks and I own a nice Loewe CompuTrekker AW but you must consider Tenba , Tamrac, ThinkTank and the new Kiboko Camera Bag.
CARDS HOLDER
Store 10 memory cards in a small, compact package that fits easily in your pocket or attaches to your belt or bags. Business card holder for easy identification:
Pixel Pocket Rocket
SHOULDER STRAP
Here there is my little secret, a shoulder strap that changes my life:
Up Strap
ASSISTANT FOR WEDDING PHOTOGRAPHER
To carry all the equipment you will need an assistant during your wedding day.
Here if you are looking for: