Become a Wedding Photographer
Every year I receive a lot of e-mails of photographers that want to become wedding photographers and ask me to how they can start their successful business in wedding photography.
You see a lot of people who are computer geeks that buy a camera and think they can just set themselves up in the wedding photography business.
Photography has certainly changed but becoming a successful wedding photographer is not so easy as buying a camera.
There are no set entry requirements in the market of wedding photography. The key, as with any other forms of photography, is to build a good wedding portfolio, make contacts, and gain experience.
The technical side with digital cameras seems easy but you will need a good photography school and some workshops with successful weddings photographers.
To be a wedding photographer is a challenging career, requiring creativity, patience, and an eye for detail. A wedding photographer needs to know how to get the perfect shots, the ones that capture both the events and emotions of the day.
A wedding day can be chaotic and disruptive, with everyone tense about things going right. You are in the middle of it all so be quiet and think about what to do, build the story of the wedding from the beginning.
Study photography it's not enough what's more important is industry experience.
You will also need some money to buy the right wedding photography equipment:
Always have two of every piece of equipment, and carry spares to each wedding in case something breaks or fails.
You will give up a lot of your time when you become a wedding photographer. Since such events mostly take place on weekends.
A last very important thing: there are no sick days in this business and you will not have problems to travel, destination weddings are really amazing but though.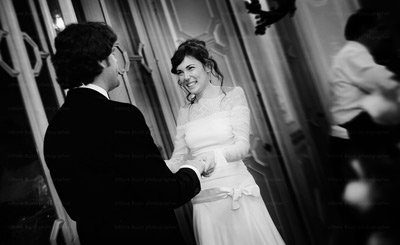 Here if you are looking for: